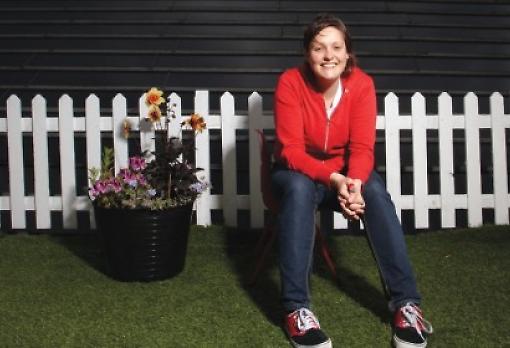 "I love voting! I'd vote three times if I could"
You started doing stand-up when you were 14. At 29, do you feel like a
grizzled veteran?
Sometimes I do. It is odd to think I've been doing this half my life, and I've never thought of my adult life without it until the last couple of years, when I had a bit of a wobble.
In the sense you didn't want to do it any more?
More that I felt guilty I wasn't doing something that "good people" did – that it was too much fun. Also I wondered whether I could cope with it – it's a lonely thing and there's a lot of pressure, and it inspires such a range of critical responses from people. Everyone in the audience has a different opinion: I started thinking about that multiplying over every gig I've ever done, and it made me nauseous.
Through Twitter, I suppose performers are unwilling eavesdroppers
on their critics.
That's just bad etiquette: I ignore it. It's a hard thing to get to grips with, abuse from strangers and internet trolls. You go: "I'm hurt, but I'll move on." I don't look for my name on the internet, ever – and if I heard people talking about me at a gig, I would run away.
Is it fair to say your comedy has become more political in the past
few years?
I think so. I was always quite sure of my opinions, but under a Labour government I could pretend everything was fine, even when there were lots of things I should have been campaigning about. Now, I think it's psychotic to pretend everything's fine and it's reprehensible not to do anything about it.
How do you describe your politics?
Oh, I'm just an idiot. I wish there was a party that was more stridently on the left. I like Kurt Vonnegut, and his hero was the American socialist Eugene Debs. He said if there's a lower class, behave as though you're part of it.
What about specific policies?
I'm really pro-tax. I want there to be a "brain drain", I want all the people who disagree with [higher top tax rates] to leave, even if that means we're completely impoverished. We'll start again. Sometimes I think my beliefs are really unrealistic and sometimes I think they're incredibly moderate.
How about the right-wing argument that the state is inefficient at
spending money?
People who work in the public sector – doctors, teachers – aren't lazy and they don't get paid very much. But I get so paranoid talking about things like this. There's a voice in my head going: "You're stupid."
Do you feel as though you have to censor yourself?
If you say things that are even moderately left-wing, people look at you like you're an infant.
If you said, "I think people should be kinder and fairer," they'd agree. But when you add, "And I think that should affect how we behave and how the system functions," they tell you you're an idiot.
How did you get involved with the tax avoidance campaigners at UK
Uncut?
I went to the Vodafone protests in Oxford Street and they changed my life – action makes you feel better. It's such a popular cause and it's so moderate, just saying: "We'd like people to pay tax according to the law, thanks."
Were you part of the protests on 26 March at the March for the Alternative?
Yes. I went to Fortnum & Mason, but I got there late and there were riot police going in and the protesters were lied to and arrested. The week after that was such a low point – they were in prison, being smeared. They were just young people who set this up because they cared. I feel they were really stamped on.
Was there a backlash?
It became, "Do you condemn the violence?" – but there wasn't violence, only property damage, and that wasn't done by UK Uncut. But people thought there was no smoke without fire, so I had people on Twitter telling me UK Uncut was a violent organisation. People were calling us anarchists – and I'm into big government.
Is the energy still there in the movement?
I think so; but that was the first big knock for it. It's made me realise what we're up against, but I don't care. The only way to lose is to give up. It's the same with being a feminist: I want equality in society, and I won't get it by being quiet. And I don't give a f*** how many people are going to call me fat or a c***, or say they don't want to have sex with me or I should be killed.
Do you vote?
Yes. I love voting! I'd vote three times if I could.
Are you a member of a political party?
No. I get close and then I feel I'd rather just be a loosely affiliated member of UK Uncut.
Is there anything you'd like to forget?
No – even awful things give you character.
Are we all doomed?
That's a bit strong. I'm an incurable optimist.
Defining Moments
1982 Born in Orpington. Starts doing stand-up at the age
of 14
1999 Wins BBC New Comedy Award
2000 Puts stand-up career on hold to study English at Lady
Margaret Hall, Oxford
2005 Supports Stewart Lee on tour
2006 Wins if.comedy Best Newcomer Award at Edinburgh Festival
Fringe
2009 Her series All of the Planet's Wonders is first broadcast
on Radio 4
2010 Becomes involved with UK Uncut