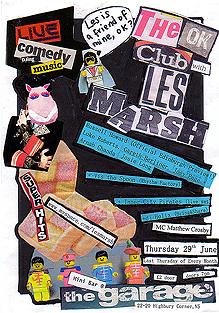 The OK Club was a night of shambolic brilliance hosted by the legendary former Radio DJ Les Marsh.
It featured a few stand-up comics, guest djs & live bands.
The OK Club started at the Highbury Garage, and then ran on the 2nd Thursday of every month at The Boogaloo, Highgate in 2005 & 2006 (I think) and was co-run by Marie McPartlin.
My favourite memory of it was Kate Nash playing one of her first ever gigs there, we were all pretty overwhelmed by her voice & songs.
It felt proper exciting.
I've got a few old programmes in the archives, here.