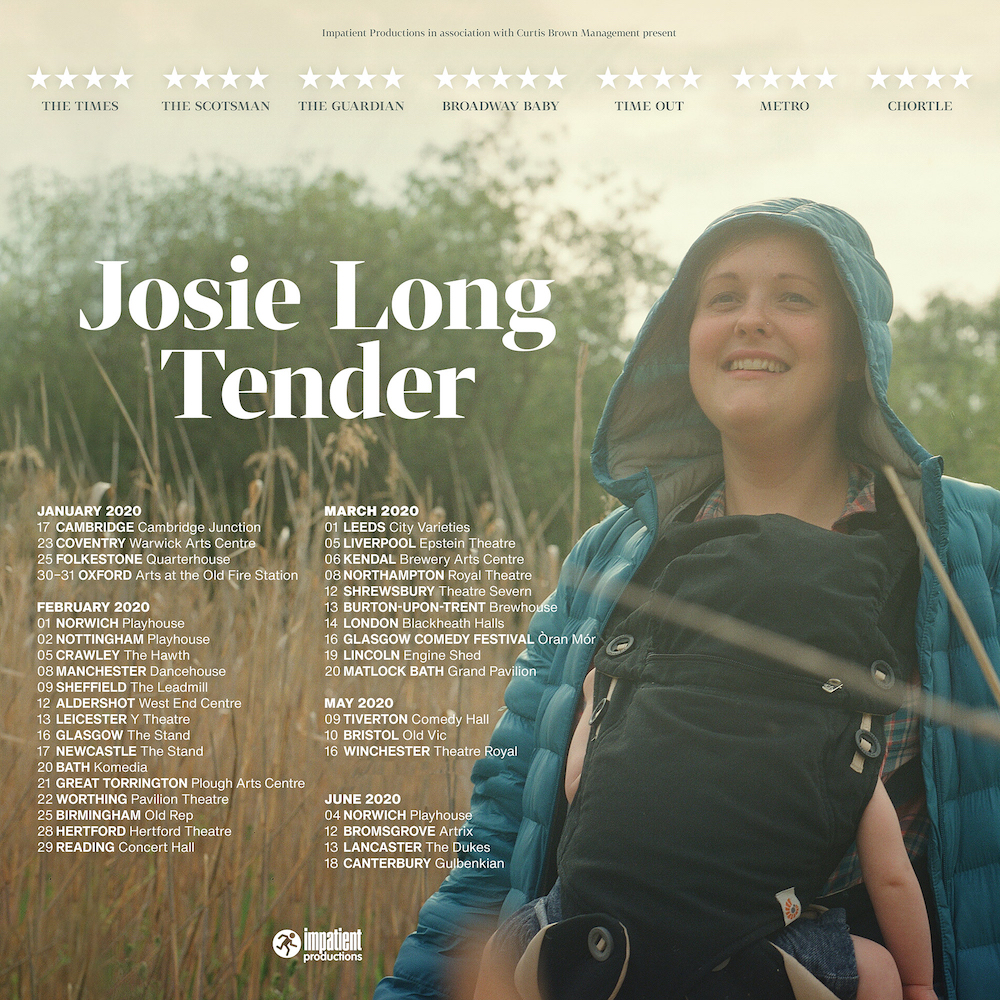 I'm doing my show in London starting next week, and then it'll be on tour in 2020, all the info & dates are below, I hope you can come!
Josie Long is back at Soho Theatre London next week from 11th-20th November, and then on tour around the UK from January 2020 with her stellar new show direct from the Edinburgh festival, Tender – book now!
Three-time Edinburgh Comedy Award nominee and very-hard-to-pin-down-indie-underdog-nightmare Josie Long is back with a brand new show after a brief hiatus, during which she had a baby and so on.
It's about the mind-bending intensity of new motherhood, but mostly about kindness, gentleness, and joy – all in all, the edgiest thing you will see this year. The aim is for you to come out of it feeling optimistic about the future, although that is a big ask.
At the very least there will be some really silly voices in it, and that's not nothing.
'Explicitly personal and positive…an hour of near constant laughs.' ★★★★ Scotsman
'A show about faith and love and a pleasure to watch. Life-affirming in every sense.' ★★★★ Evening Standard
'She is articulate, passionate and intense, but heart-warmingly funny, too.' ★★★★ Chortle
★★★★★ Skinny
★★★★ Independent
★★★★ Guardian
★★★★ Fest
November 2019
Monday, 11th November 2019 – Tender – Soho Theatre, London (9:45 pm) TICKETS
Tuesday, 12th November 2019 – Tender – Soho Theatre, London (9:45 pm) TICKETS
Wednesday, 13th November 2019 – Tender – Soho Theatre, London (9:45 pm) TICKETS
Thursday, 14th November 2019 – Tender – Soho Theatre, London (9:45 pm) TICKETS
Friday, 15th November 2019 – Tender – Soho Theatre, London (9:45 pm) TICKETS
Saturday, 16th November 2019 – Tender – Soho Theatre, London (9:45 pm) TICKETS
Monday, 18th November 2019 – Tender – Soho Theatre, London (9:45 pm) TICKETS
Tuesday, 19th November 2019 – Tender – Soho Theatre, London (9:45 pm) TICKETS
Wednesday, 20th November 2019 – Tender – Soho Theatre, London (9:45 pm) TICKETS
January 2020
Friday, 17th January 2020 – Tender – The Junction, Cambridge (8:00 pm) TICKETS
Thursday, 23rd January 2020 – Tender – Warwick Arts Centre, Coventry (7:30 pm) TICKETS
Saturday, 25th January 2020 – Tender – Quarterhouse, Folkestone (8:00 pm) TICKETS
Thursday, 30th January 2020 – Tender – Old Fire Station, Oxford (8:00 pm) TICKETS
Friday, 31st January 2020 – Tender – Old Fire Station, Oxford (8:00 pm) TICKETS
February 2020
Saturday, 1st February 2020 – Tender – Norwich Playhouse (7:30 pm) TICKETS
Sunday, 2nd February 2020 – Tender – Nottingham Playhouse (7:30 pm) TICKETS
Wednesday, 5th February 2020 – Tender – The Hawth, Crawley (7:45 pm) TICKETS
Saturday, 8th February 2020 – Tender – The Dancehouse, Manchester (8:00 pm) TICKETS
Sunday, 9th February 2020 – Tender – The Leadmill, Sheffield (8:00 pm) TICKETS
Wednesday, 12th February 2020 – Tender – West End Centre, Aldershot (8:00 pm) TICKETS
Thursday, 13th February 2020 – Tender – The Y Theatre, Leicester (7:30 pm) TICKETS
Sunday, 16th February 2020 – Tender – The Stand, Glasgow (8:30 pm) TICKETS
Monday, 17th February 2020 – Tender – The Stand, Newcastle (8:30 pm) TICKETS
Thursday, 20th February 2020 – Tender – Komedia, Bath (8:00 pm) TICKETS
Friday, 21st February 2020 – Tender – The Plough Arts, Great Torrington (8:00 pm) TICKETS
Saturday, 22nd February 2020 – Tender – Pavilion Theatre, Worthing (7:30 pm) TICKETS
Tuesday, 25th February 2020 – Tender – The Old Rep, Birmingham (7:30 pm) TICKETS
Friday, 28th February 2020 – Tender – Hertford Theatre, Hertford (8:00 pm) TICKETS
Saturday, 29th February 2020 – Tender – Concert Hall, Reading (8:00 pm) TICKETS
March 2020
Sunday, 1st March 2020 – Tender – City Varieties, Leeds (7:30 pm) TICKETS
Thursday, 5th March 2020 – Tender – Epstein Theatre, Liverpool (8:00 pm) TICKETS
Friday, 6th March 2020 – Tender – Brewery Arts, Kendal (7:30 pm) TICKETS
Sunday, 8th March 2020 – Tender – Royal & Derngate, Northampton (8:00 pm) TICKETS
Thursday, 12th March 2020 – Tender – Theatre Severn, Shrewsbury (7:30 pm) TICKETS
Friday, 13th March 2020 – Tender – Brewhouse, Burton-Upon-Trent (8:00 pm) TICKETS
Saturday, 14th March 2020 – Tender – Blackheath Halls, London (8:00 pm) TICKETS
Monday, 16th March 2020 – Tender – Oran Mor, Glasgow (Comedy Festival) TICKETS
Thursday, 19th March 2020 – Tender – The Engine Shed, Lincoln (8:00 pm) TICKETS
Friday, 20th March 2020 – Tender – The Grand Pavilion, Matlock Bath (7:30 pm) TICKETS
May 2020
Saturday, 9th May 2020 – Tender – Comedy Hall, Tiverton (8:00 pm) TICKETS
Sunday, 10th May 2020 – Tender – The Old Vic, Bristol (8:00 pm) TICKETS
Saturday, 16th May 2020 – Tender – Theatre Royal, Winchester (8:00 pm) TICKETS
June 2020
Friday, 12th June 2020 – Tender – Playhouse, Norwich (8:00 pm) ON SALE SOON
Friday, 12th June 2020 – Tender – Artrix Studio, Bromsgrove (8:00 pm) TICKETS
Saturday, 13th June 2020 – Tender – The Dukes, Lancaster (7:30 pm) TICKETS
Sunday, 28th June 2020 – Tender – Gulbenkian, Canterbury (8:00 pm) TICKETS