Let's Drink About It – Ep 5 (2014)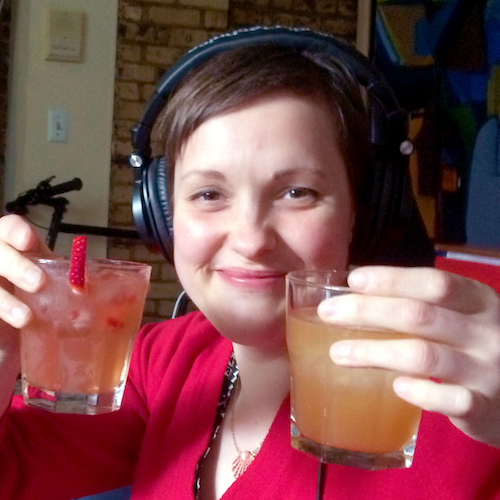 Josie's sister had a baby, Chris's friend had his 40th birthday, and Ben's Internet inquiries are met with guff.
The Drinks:
Dry Martini
Rinse a chilled cocktail glass
with dry vermouth and dump it out, then stir 2.5oz London dry gin in ice, strain it into the glass and garnish with a twist. You are now a grown up.
Soda Jerk (via)
2oz Blanco tequila
1/2oz Campari
1/2oz Lime juice
1/2oz Passion fruit puree (unsweetened)
1/2oz Vanilla Bean-Infused Agave Syrup*
1/2oz Egg white
2oz cream soda/div>
Shake the booze, juice, purée, syrup and egg white, then add ice and shake again. Pour into a Collins glass, top with soda and garnish with lime zest.
Cherub's Cup (via)
1oz St-Germain
2oz Vodka, Cirtus Vodka, or Hendricks
3/4oz fresh lemon
1/4oz simple syrup
1 muddled strawberry
top with Brut Rosé Sparkling Wine
Shake and strain over fresh ice in a Collins glass. Top with Brut Rosé or Brut Champagne. Garnish with a slice of strawberry.
Baby's First Bourbon (via)
2oz Bulleit Bourbon
3/4oz Orgeat
3/4oz lemon juice
Dash of Angostura bitters
Stir over ice. Strain into an old fashioned glass.
Ginger mint lemonade
1 part fresh lemon juice
1 part ginger syrup
1.5 parts seltzer
Mint leaves
Muddle the mint, add ice to your glass and mix juice and syrup in, top with seltzer.
For the ginger syrup, bring 1 cup of sugar, 1 cup of water and 6oz finely diced fresh ginger root to a boil. Lower the heat and let it simmer for 30 minutes, then strain the ginger. Let the liquid cool to room temperature before using.