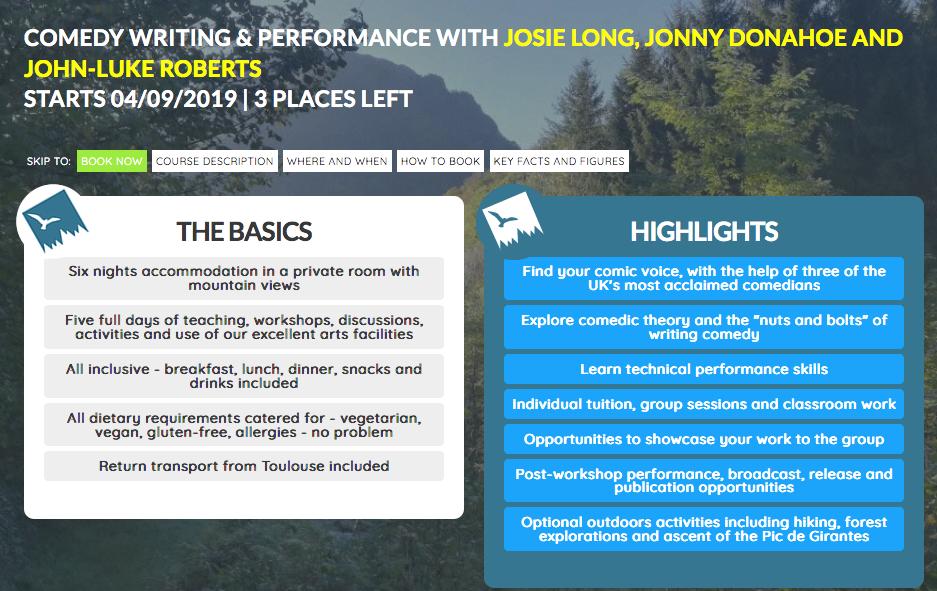 This is just a quick message as I am currently in the middle of my Edinburgh Fringe run (Tender, 8.20pm, The Stand and touring in 2020…)
In September Jonny Donahoe, John-Luke Roberts and I will be teaching at the coolest holiday/course/camp – it's high in the French Pyrenees, very near the border with Spain, and it will be incredible.
You can read more about it here – CAMPFR.COM
The course starts on Wednesday, 4th September, and accomodation, transport & food is included. There's only a couple of spaces left, 3 at last count, and it'll be amazing.
Josie x
In the meantime, if you're in Edinburgh, there's still a handful of tickets left to see my new show at The Stand, with ticket info here…
---
Tender, 8.20pm
– The Stand, Edinburgh
– TICKETS
Tender, Touring
– All over the place!
– TICKETS